KeyFeatures
Fastest Servers
100% Uptime Guarantees
Managed Cloud Hosting
Fully Managed Cloud Hosting
Customer Support
Excellent 24/7 Phone & Chat Support
Cloudways Hosting Overview
Website:
www.cloudways.com
Established:
2011
Key Features:
Expert Support, Control Panel, 100% Uptime Guarntees, Fully Managed Hosting
Customer Support:
24/7 Live Chat, Email & Phone Support – 800.580.4985
Headquarter:
Malta
Affiliate Program:
Yes
Pros

and

Cons

of Cloudways Hosting

Pros
Free and easy migration of your websites.
30-day free trial offers enough time to give you an idea of how well Cloudways Hosting works.
Site backup system works effectively.
Simple control setup.
Works well with many control features and plug-ins.
Fast speeds work thanks to the cloud computing system used here.
Cons
Does not work with Plesk or cPanel.
Requires technical skills.
About
Cloudways

Hosting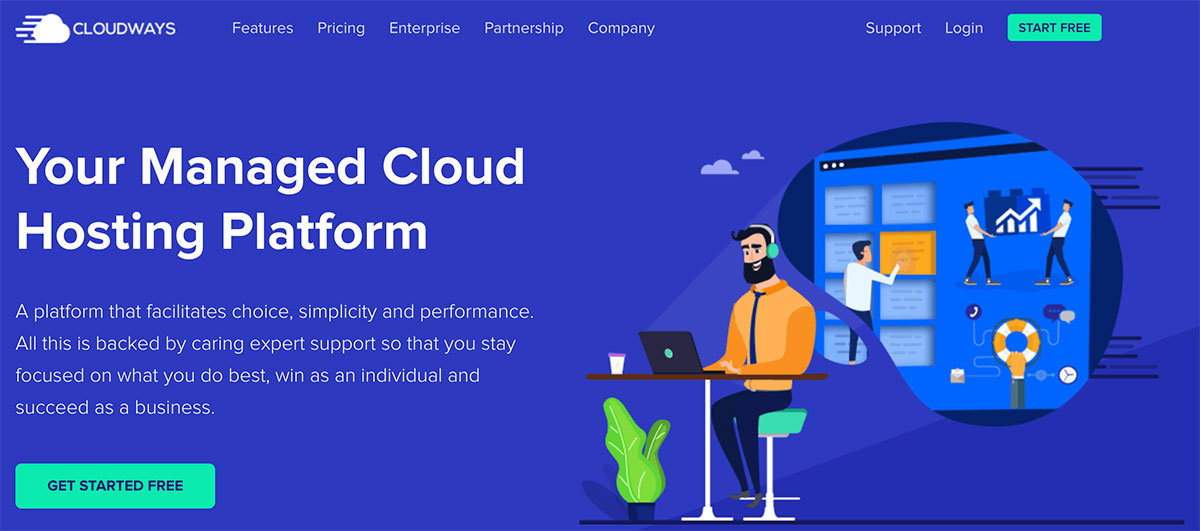 Cloudways is a managed cloud hosting company that focuses on cloud technology. Formed in 2011 and incorporated in Malta, Cloudways works as a cloud platform that offers an intelligent solution for deploying managed hosting functions.
Cloudways is a company that focuses on managed cloud hosting to ensure that people can get online quickly. This works with a setup where your site data is available on many servers while ensuring that content can quickly move from one server to the next. This, in turn, produces a secure connection and setup that you are bound to benefit from.
A significant part of Cloudways comes from the service provider's cloud hosting support. While many other groups work with shared and dedicated servers and VPS technology, Cloudways Hosting focuses on a cloud-based setup.
With this, many copies of your site will be sent to multiple data points in the data center your site is associated with. A cloud server is used to keep everything organized.
The data you hold is switched with a detailed program that ensures your content is available on the best service possible. It also helps to move your content to another server if the original one you had it on goes down. With this, you will have a more reliable connection with your data available and ready to work. Your resources are quickly deployed and made available for use, thanks to what Cloudways has to offer.
Cloudways Managed Hosting: A Simple Setup
You can quickly get your Cloudways setup ready:
You select the provider you want to get your cloud server off of. This includes an appropriate data center.
Select the application you wish to run. This can be one of many solutions for your requirement needs.
The specifications surrounding your connection and how you wish to use an app should be added.
The cloud server is then launched.
The simple design that Cloudways uses for supporting your work is vital to your requirements. This assists you in doing more in any situation. You have more freedom to choose what you want to get out of your connection, and layout is a significant plus.
Cloudways Managed Hosting Review
#1 – Dedicated Environment
Each server has its dedicated IP address, thus giving you the opportunity to create your apps. This ensures you are not subjected to the limits and hassles that come with more traditional hosting options.
#2 – SSD Support
The SSD-based hosting setup helps you load up content quickly and efficiently. It is much easier for you to get your content hosted well with a sizeable format for managing your content.
#3 – WordPress Cache Support
Cloudways is great to use when you need help with getting your WordPress site hosted. The cache plugin gives you extra support for managing your content.
#4 – Magento Support
The full-page cache feature works to keep a complete snapshot of your site at all times. This works well for Magento-based sites.
#5 – PHP7 Support With PHP-FPM Functionality
Each server used by Cloudways is PHP7-compliant. This ensures you will access one of the top scripting languages around.
The PHP-FPM system is also included to keep PHP7 sites dashing. It offers a faster setup that adds an outstanding design.
#6 – Cloudways CDN
The Cloudways CDN system is fully integrated into the system. This helps with organizing how your content is moved to different servers. It keeps your content from being lost while moving from one server to another.
#7 – Redis Cache Support
The Redis cache system is made with databases in mind. This assists in managing your data and keeping it organized. It works with Apache databases, among others, thus showing how versatile and distinct the program is.
#8 – Great Performance
The performance that comes out of your host is worth spotting. The service offers a response time of about 200ms. This is one of the fastest totals on the market. The 99.99% uptime rating is also excellent for keeping your site up and running, with only routine maintenance needs being a reason for your site being down.
Cloudways Hosting Security Review
The security functions offered by Cloudways make the service very efficient and valuable. Take a look at these points that Cloudways can assist you with.
#1 – Dedicated Firewalls
A robust firewall is used to ensure that your content is protected and will not be harmed by outside forces in any form. The firewall will identify malicious content and keep it off of your computer.
#2 – Backup Support
The backups offered by Cloudways ensure that your site is organized well. You can set up an automatic backup of your server image at a time that fits your needs. You can get it backed up once a week or even every day or every other day if you wish. The manual backup option gives you a choice to get your site secured well.
#3 – SSL Installation Functions
An SSL setup can work on your site with the Let's Encrypt system offering a full HTTPS layout. This ensures there are no problems with getting a site organized.
#4 – Security Patching
Cloudways manage the security patching features. The company automatically works with all security updates and virus definition reports. It keeps you from having to struggle with getting downloads handled on your own.
#5 – Restoration Features
The auto-healing feature on the servers Cloudways uses ensures that your content is protected and will not be lost. This keeps you from struggling in some manner.
#6 – Two-Factor Authentication
Two-factor authentication is used to keep all Cloudways servers protected. This prevents the content from being lost or broken apart. This adds a convenient design for keeping content in check while ensuring only the right parties can access Cloudways-hosted sites.
#7 – IP Whitelisting
The IP networks you use will be carefully organized on your end. You will have the option to work with an IP whitelist to determine which addresses can have unlimited access to your SSH and SFTP sites.
#8 – Extensive Support
Cloudways offers support for various technical functions. The managed hosting ensures that all applications are updated as needed. These include support for Drupal, PHP7, Let's Encrypt, Magento 2, WooCommerce, Amazon Web Services, and WordPress, among many others.
All servers are also HTTP/2-enabled. This means it takes less time for interactions between servers and clients to work.
Cloudways Hosting Integrated Functionality Review
The integrated features available through Cloudways will add strong support for keeping your site organized. Let's look at some of the unique features you will get through Cloudways.
#1 – CloudwaysBot Channels Work Well
The CloudwaysBot system is included to give you notifications of events on all the channels on your site. These include events where people interact with you or when any attacks are blocked, among other points. The work offered here will assist you in keeping your content secure.
#2 – Rackspace Support
Rackspace helps you with getting email inboxes ready. You can get the other Rackspace system to protect your email system fully.
#3 – RESTful API
You can use the RESTful API on Cloudways to manage your servers and apps. Thanks to the API, you can also get all apps on your server to migrate to a new site or upgrade depending on your needs.
#4 – SMTP Functionality
External SMTP support is also available on the servers for email intentions. This assists with getting a system up and running for managing your emails from your server without being complicated.
#5 – Application Support System
Cloudways offers an application upgrade system and migration program to help you monitor your site and all the plug-ins you use. The program helps you with updating any servers you have. It also lets you monitor how well your site migrates for free. This ensures a smooth layout for keeping your content functional.
Cloudways Analytics Review
The analytics functionality from Cloudways ensures you will have more control over how well your site is being hosted. More than sixteen metrics are used to give you an idea of how your site is running. This works with the CloudwaysBot notifications to let you know of any significant events or actions on your site. The NewRelic integration feature also ensures you can review any problems on your server and troubleshoot them as needed.
Cloudways Control Panel Review
The control panel used by Cloudways is simple and gives you full access to the plug-ins and other features you are using. The controls allow you to move an existing WordPress site to a cloud host or add DNS management tools. It offers full control over everything you require.
The control panel also offers a monitoring layout that lists how well your server setup is working. You can review how fast a connection is, how many reads are being used on your site each second, and so forth.
More Managerial Functions
You have more control over your Cloudways site than what you would get out of many other spots. The managerial features that come with what Cloudways has are essential to spot:
The selection of IaaS providers is extensive. The support from Google, Kyup, and DigitalOcean especially help.
The block storage function offers added help with expanding upon storage space. This can work without having to alter any other settings inside the server.
Vertical scaling, you adjust the allocated server resources you wish to use. The resources are moved properly and organized to be easy to read. You can use this in cases where you are getting loads of traffic, and you need an extra bit of help with adjusting how that traffic is moving.
The one-click support system lets you launch multiple apps at once. This works for WordPress and Magento sites alike.
This works with multiple versions of PHP applications. The support for many PHP editions, including 5.6 and 7, helps keep it functional.
You can go from MariaDB to MySQL databases as you see fit. Cloudways offers support for both of them.
Teamwork Functionality
Any extensive team-based exercises you need to utilize through your Cloudways site can be easily supported. There are many useful points for Cloudways users to see.
Git integration produces you with consistent data updates on your site. This includes working with code updates to keep your site organized and operational.
The SSH and SFTP access points assist you in getting your site operational. This lets more people in your workplace reach your content while still protecting it from outside parties.
You can add as many team members to your Cloudways server or app access as needed. You can use this when you need extra help with planning a site.
Servers can be cloned with one click. Cloudways supports this to allow files and databases to be copied so more people in the workplace can access them.
Extra Control
The added controls you will get out of your Cloudways work are essential to review:
One-click backups make this vital part of protecting your site easy to follow.
Varnish cache rules can be adjusted through the control panel.
You can change your application webroots with a few simple clicks.
The setup platform lets you control every app you install.
The WP-CLI client lets you adjust your WordPress sites in many forms.
The Cron-Job Manager lets you schedule individual jobs as needed.
Cloudways Data Centers and Servers Review
The cloud support system from Cloudways has helped to get more than 12,000 servers established in more than forty countries. Thousands of users work with these servers to get their sites up and running.
What About Data Centers?

You will have access to many data centers with Cloudways. The service works with more than fifty centers around the United States, Europe, South America, and Asia. The variety of data centers ensures you can find one to your liking. You can even test individual ones before getting your work moved to one of these places. You do not have to get into any long-term contracts with these data centers either. The data centers are all operated by various groups including DigitalOcean, Google Cloud Platform, and Kyup among others.
Cloudways Hosting Customer Support Review
The customer service offered by Cloudways provides you with an excellent setup for getting more out of your work. Look at these points from Cloudways to see what makes the work you get so comfortable to utilize.
Live Chat

The team at Cloudways offers a full live chat feature that gives you information on everything you need to get out of the service. You can enter the information you have through the simple chatbox, and you will get an answer. This is an efficient and helpful system that lets you get answers right away.
Ticketing System

The ticketing system has a detailed layout to get your content read quickly through a simple server. The experts at Cloudways review all support tickets and get back to them as soon as possible. Your tickets can be detailed enough to where people who know specific points can get you the help you require right away.
Detailed Knowledge Base

The website also offers various tutorials and databases that you can use to get the most out of your hosting needs. The system gives you information on how to work with many functions and demands.
Strong Community

The community features that Cloudways support is vital to the group's success. With Cloudways, you can be assured the assistance you need through a significant grouping of experts and users who work together to resolve issues and improve upon how Cloudways works. The support is extensive and works for any problems or concerns.
Clooudways Hosting Plans and Pricing Review
There are multiple package options available for your use. These are made with various needs based on how large your business might be.
The cost varies based on the data center option you choose. Each data center setup has its features.
DigitalOcean – Plans start at $10/mo (Discounted Cost)

DigitalOcean data centers are available with 1 GB RAM, a single-core processor, 25 GB storage and 1 TB bandwidth for $17/mo $10 per month with a discounted link. You can upgrade to a more popular plan with 4 GB RAM, a dual-core processor, 80 GB storage, and 4 TB bandwidth for $42 per month. All plans work with unlimited apps and free SSL certificates.
Linode

Linode data centers are also helpful for your requirements. For $12 per month (Discounted price), you can get a 1 GB Ram host setup with a single-core processor, 20 GB storage and 1 TB bandwidth. The top plan here is $50 per month and offers 4 GB RAM, dual-core processing, 48 GB storage, and 3 TB bandwidth. Unlimited apps and free SSL certificates are included with all plans.
Vultr

The Vultr data centers are accessible for $11 per month (discounted) at the least. For $44 per month, you can get 4 GB RAM and 60 GB storage plus 3 TB bandwidth on a dual-core processor. This is the most popular plan that Cloudways has for Vultr data centers.
Amazon Web Services

Amazon Web Services data centers work well for sites that need help with e-commerce needs. Services are available from $36.04 per month and offer 1.75 GB RAM, a single vCPU, 4 GB storage, and 2 GB bandwidth. The AWS hosting charges are included in the cost you would pay to Cloudways.
Google Cloud Platform

Google has its own cloud data centers that you can use for $34.17 per month. It is suitable for 1.70 GB RAM, 20 GB storage, and 2 GB bandwidth on a single vCPU.
Kyup

Kyup is the last of the options to check out for hosting needs. Available for $21.16 per month, this works with a single-core computer and 1 GB RAM plus 20 GB storage and 2 TB bandwidth. This is designed with high-end sites in mind.
Our Verdict
Cloudways is an attractive solution to review if you look for a quality layout for managing your website. The setup works with an outstanding arrangement that makes it easy to handle your content without problems.
The customer service team gives you all the help you need with any problems. The variety of data centers and different options you have for entering into a program make it popular. Take a look at what this offers when finding a sensible solution for your web hosting requirements.
Hosting Plans

Google Cloud


$73.62


/month



Server Locations
United States
Brazil
Canada
India
Japan
Singapore
Korea
Netherlands
Germany
France
United Kingdom
Ireland